Camp Hahobas History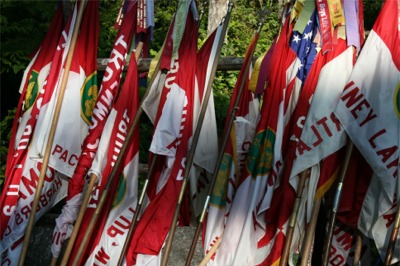 In the 1930's, the Hood Canal camping area was known as Camp Hahobas. Scouts attending Camp Hahobas were transported by the Sea Scout cruiser Occult. The cruiser departed from the Municipal dock for the 125-mile water journey to Camp Hahobas. This voyage required some 10 to 11-hours sailing time. Other Scouts not being able to make the long journey met other Sea Scout ships at Hood Canal and were transported across the canal to the beach camp.

Camp Hahobas had grown to nearly 400 acres by 1939 and by the end of 1940 was 520 acres. All camping was on the beach property, with hikes and daytime activities making use of the upper areas of the reservation.


The year of 1949 marked the, ''On Top'' camping experience. A rough-cut road from the beach extended to the top of the hill. Camping was moved to the present area known as Camp Twana. Gravel and sand were hauled up from the beach to form a beach type appearance on Robbins Lake. Campsites were assigned by number, and the cutting of sallal for tentage set up was left to the individual troops. Also during 1949, travel to camp could be by auto, but required a long hike to reach the camping area.

Camp Tahoma came into existence around 1955 at which time two camps (Tahoma and Twana) were being used to support the summer camp program on Hahobas Scout Reservation.

Troop sites were named by some of the early Camp Staff and participating Scoutmasters. Camp Twana received its name from the Twana Indians and Camp Tahoma was named after our Mount Rainier, which in those days was known as Mount Tacoma and Mount Tahoma.

In 1980 Camp Twana and Camp Tahoma which were two separate summer camps operating on The Hahobas Scout Reservation were joined into one summer camp that we know today as Camp Hahobas.

In 1993 the Mount Rainier Council merged with Twin Harbors Council and Tumwater Area Council to form The Pacific Harbors Council. The following year new leadership brought in the scout-friendly concept of the Open Program.

In 1998 Camp Hahobas pioneered it's own High Adventure Program across the Hood Canal into the Olympic Mountains.

By 2015, Camp Hahobas had grown from it's humble past to offer many different merit badges, a high COPE course, a Welding Academy, Blacksmithing program, the advantages of the open program, and the best summer camp staff in the Northwest.


Hahobas For Sale

On December 16, 2015 The Executive Board of the Pacific Harbors Council voted to close Camp Hahobas and three other Council properties: Camp Delezenne, Camp Curran and Camp Kilworth.

The board also approved preparations for Camp Hahobas and the other properties to be put on the market for sale.

On February 25, 2019, the Council closed on the sale of a majority of the 500 acre camp property to the DNR and the Great Peninsula Conservancy, leaving the remaining 122 acres of Camp Hahobas under Council ownership, which will be opened for rustic camping by Scout units in the near future.

The remaining camp property includes the rifle and archery ranges, the Bear Bowl, the Nature Lodge, Environmental Science Lodge, Fruitcake Lodge, Handicrafts Lodge, Twana Lodge, U Lake and the Robbins Lake waterfront.

The property purchased by the DNR and Great Peninsula Conservancy will be available for use by Scouts, and now has a permanent conservation easement, and will never be commercially developed.

In the past 80 years, Camp Hahobas has seen many changes, but one thing remains the same; Camp Hahobas is still the jewel of the Hood Canal at the base of the Olympic Mountains.

Camp specific events: Great White Newt Regatta, Race for Washkanaba, Chetwoot Tolo games (new for 2009). Hahobas is divided into two different loops of campsites located on different sides of the camp called the Tahoma loop and the Twana loop.

History of Camp Hahobas, courtesy of Kevin Rudsil and John Ohlson


Back to the Hahobas History page